DAVE COCKRUM (November 11, 1943 - November 26, 2006)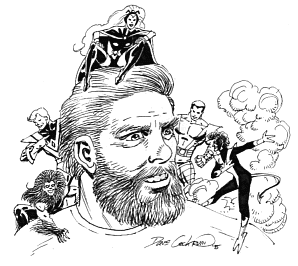 Dave Cockrum was one of my all-time favorite comic book artists. He had a huge impact in the resurgence of Super-Heroes in the 70's, first on the the Legion of Super-Heroes and then of course on the New X-Men. His X-Men issues are among the first comic books I ever remember buying and his characters (especially the Imperial Guard and Starjammers) made a big impact on me. Dave went on to design many covers at Marvel, to create the Futurians and to work on several other series, such as Soulsearchers and Company.

I got to meet Dave at some of the Big Apple Conventions in New York in the late 90's to early 00's and we also corresponded periodically via e-mail. Meeting a favorite artist can be very disillusioning, but not so with Dave. He and his wife Paty were always so welcoming to fans, friendly and down to Earth. Dave was just a really nice guy as well as being a major talent and innovator in the field. I'm glad that I got to meet him and to tell him how much his work had meant to me.

Just a few weeks before he died, I posted to his message board to say that his artwork of Wolverine was going to appear on an upcoming US postage stamp. It turns out that I was the first to let Dave know about this and of course he was very pleased to hear the news. I'm just glad that he got to hear about that honor before he passed away.

This gallery contains some examples from my collection of Dave Cockrum art. Please enjoy the artwork and remember the man who created it. Rest in peace Dave. You won't be forgotten.